PRIVATE CLIENTS
CAIM's mission is to Strengthen and Protect our client's (long-term) investment goals by creating dividend yielding portfolios with low volatility. This classic strategy benefits investors in both up and down markets and, over time, minimizes risk. Investing in stocks that not only pay dividends but have the ability to increase the dividend enables us to buy more stock (compounding benefit) and or provide a growing stream of income for our clients.
WHY CAIM
We understand that the ups and downs of the market can be difficult. Unlike many investment advisors, CAIM gives you direct access to your portfolio manager—one with broad experience gained from over 25 years investing in global markets. This level of engagement is invaluable; it provides clients access to portfolio information and provides guidance in periods of transition.
CAIM values empathy and integrity. We believe our status as an independent investment advisor reflects those values. Our most important mandate is to always act in the best interest of our clients.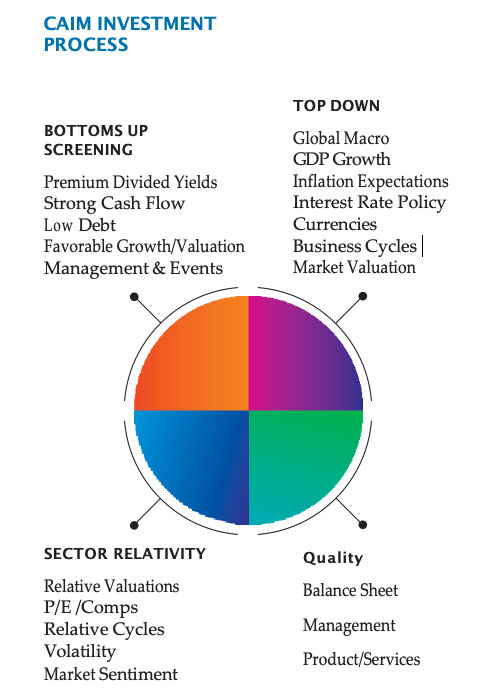 HOW WE WORK
At CAIM, we are selective in who we choose as our clients. We have a small group of private clients who meet the descriptions you will see below. This allows us to focus on your investments and have the time to spend with you. Our investments are transparent, flexible, easy to understand and have a long term track record that has been audited and verified by a third party.
* Performance numbers and third party verification available by contacting: info@caimllc.com
We look forward to the opportunity to work with you.
Investing in companies that pay dividends helps us meet the varied needs of our clients:
For Individuals That Need To Supplement Income: Dividends provide an extra income stream and yields benefits in both up and down markets.
For Those Focused on Maximizing Long- Term Growth: Dividends can "get you paid while you wait," because it can take time for the market to realize value in specific companies. Provide a way to keep up with inflation.
For Conservative Investors: Dividends provide a cushion for investment portfolios in down markets. Reinvesting dividends in down markets enables the investor to buy shares at a lower price.
For Baby Boomers: Baby boomers face many challenges as they face retirement. Living longer and rising medical cost can erode their nest egg if not invested properly. Dividend stocks can provide both the necessary growth to keep up with inflation and income for appropriately diversified portfolios.
For Women: Most women want stability when it comes to investing. They view money as a way to care for themselves and their family and improve their lives. Dividend stock portfolios can meet the needs of those investors who desire low risk equity solutions.